Packaging products in flexible film bags
---
Packaging in film makes it possible to flexibly package different products in bags. Thanks to this packaging material, the possibilities to package chunky products are endless.
Film is the most universal packaging material used on packaging machines manufactured by Rühle & Co. Maschinenbau GmbH. The packaging materials most often processed are made from heat sealable composite materials (OPP films). Upon customer's request, we can also process pure PE films. Additionally, we offer processing cold seal films for high performance.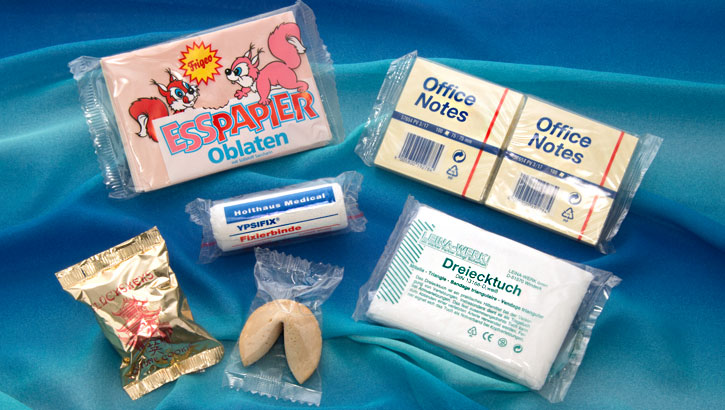 Packaging products in film bags
We process film on our machines and guarantee high levels of quality and process safety. Possible types of machines for film processing:
VH4 / VH4-HS Four-side sealed bag packaging machine
For products such as plaster, moth repellents, welding lenses, ball bearings, seed packets, X-ray films, photographic paper, dentist's mirrors, effervescent tablets, coal starters, fire starters, piston rings, sewing needles, transfer pictures, phone cards, and plastic cards.
SMH 520 Tubular bag packaging machine
For products such as bandages, confectionery, cookies, animal food, insoles, sausages, waffles, halogen lamps, solenoid valves, French loaves, oil cloths, bathroom soap, milk portions, set of cutlery, candy, modeling clay, chocolate, soap, toothbrushes, mouse bait, bakery products, ink ribbons, tobacco pouches, injection molded parts, sandwiches, candles, sponges, washing-up liquids, chewing gum, gingerbread, lipstick, fortune cookies, valves, lollipops, sweets, cups.
VA-3 Universal film packaging machine
Safely package technical products and technical parts in individual or in collecting bags.
How we package ?
---
---