Packaging in aluminium composite for highest protection
---
Packaging in aluminium composite offers the highest possible protection against environmental influences. This composite material, made of different layers, offers protection against corrosion, UV radiation, mechanical damages and odours. The aluminium layer makes the bag water and steam proof, which is ideal for long-time preservation. Aluminium composite is generally heat sealable.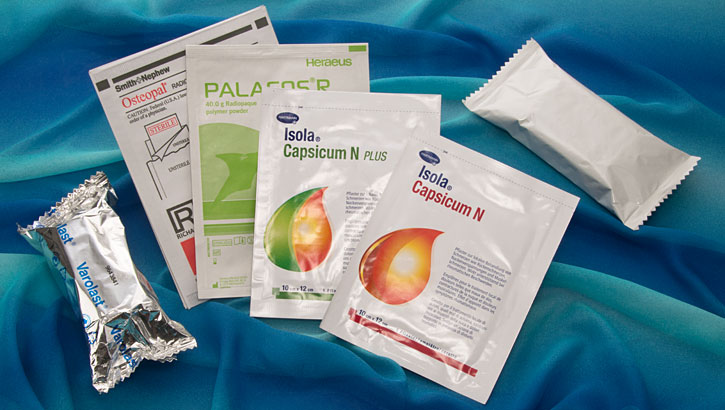 Safely process aluminium composite
We process aluminium composite on our machines and guarantee high levels of quality and process safety. Just contact us – together, we'll find a solution. Possible types of machines for aluminium composite processing:
VH4 / VH4-HS Four-side sealed bag packaging machine
For products such as plaster, heat plaster, compresses, dressing material, special cloths, microwell plates, blister packs, protective packagings, etc.
SMH-520 Tubular bag packaging machine
For products such as bandages, zinc paste bandages, dressing material, Palusol strips, confectionery, animal food, pharmaceutical products, etc.
VA-3 Universal film packaging machine
Safely package technical products and technical parts in individual or in collecting bags to protect them against environmental influences.
How we package ?
---
---